Perfect for railway
Mar 8, 2022
Andre Beste, Technical Marketing Manager at Temposonics GmbH, explains in an interview why the magnetostrictive MHRM linear position sensors are predestined for a wide range of railroad applications and why they meet the needs of the industry.
Since 2018, the Temposonics® MH series MHRM has been specially developed for the railway market. What is the advantage of these sensors?

The position sensors for the railway market are based on our well-known MH series, which was developed specifically for mobile hydraulics applications. With the MHRM, our customers in the railway industry get the same qualities, features and benefits that other users have already experienced in their mobile systems. In addition, the new sensor has a very compact design and operates wear-free, resulting in increased application lifetime.


André Beste, Technical Marketing Manager at Temposonics
Our patented magnetostrictive Temposonics® technology, used in all MH Series sensors, also ensures that MHRM sensors are robust against vibration, shock, dust and electromagnetic interference. This allows them to be used in the most challenging applications with no downtime.
All in all, the position sensors, due to their characteristics and technology, are perfectly suited for use in railroad applications.

In which railway applications are the position sensors used?
The MHRM sensors have been specifically optimized for a wide range of applications in the railway market. They can be used in commuter trains as well as in city trains or high-speed trains and provide accurate and high-quality values for the user everywhere.
Specifically, we are talking about the use of the sensors for inclination control, for the damping unit, in the pantograph or in rail maintenance vehicles, such as rail grinders or track tamping machines.
To what extent have the properties of Temposonics sensors been adapted to withstand the harsh conditions of railway installations?

Sensors for railway applications, compared to other mobile hydraulic applications, must of course meet different standards and specifications. We have designed the sensor precisely to meet the requirements of the market. Thus, it meets the requirements for shock, vibration and EMC according to DIN EN 50155 and offer shock resistance according to DIN EN 61373 Cat2 (bogie) and Cat3 (axle) as well as vibration resistance according to IEC 60068-2-64-Fn Cat3 (axle).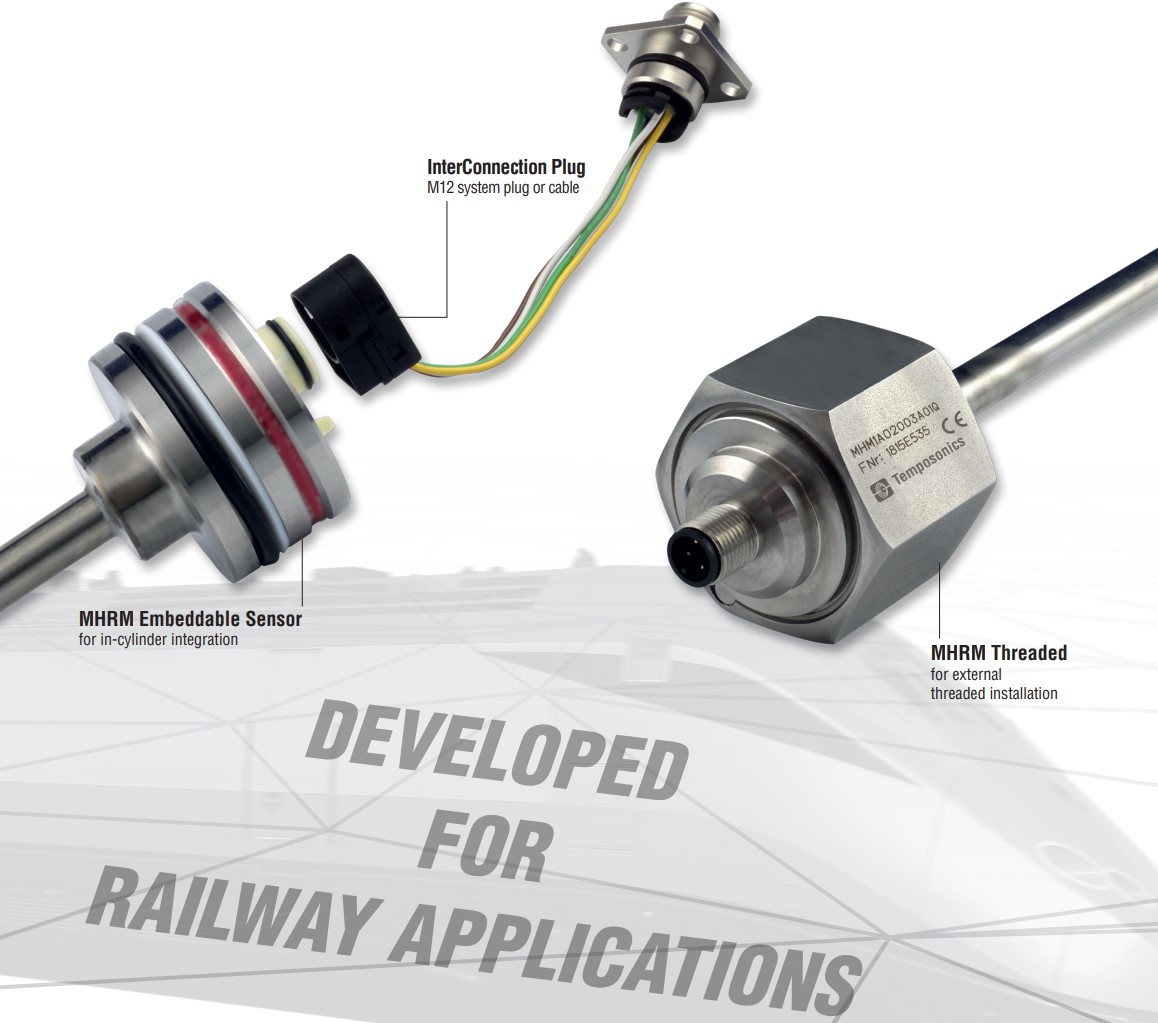 What installation options does the user have?

The sensors are available in two different installation designs. On the one hand, the sensors can be integrated directly into the hydraulic cylinder. This is also the most space-saving and cost-effective variant. On the other hand, the MHRM sensor is also available in a threaded version, which is suitable for screwing in. The threaded sensor has a very robust stainless steel housing and can achieve water and dust protection according to IP69K. Both sensors have a measurable stroke range of 50 mm to 2500 mm with analog voltage and current outputs and do not require a separate, protected power supply for position sensing.
Another important point is that both the screw-in and integration versions use the M12 connector system, which also complies with IP69K, and works easily and safely.
Cooperation with customers and their needs were elementary in the development of the sensors. What needs are we talking about here and to what extent have you adapted to them?

Our customers are looking for a sensor that meets the challenges of their applications. It must meet certain electrical requirements as well as standards for shock and vibration in order to be used. By optimizing the MH-Series and developing the MHRM sensor, there is now such a sensor that meets the special requirements of railroad applications
We have worked closely with our customers in the railroad market to optimize the sensor to meet their needs. They can now benefit from advantages such as a compact sensor housing, durability, reliability, easy installation and the high quality and precision of Temposonics® technology to power their applications.